---
Tue 26 Sep 17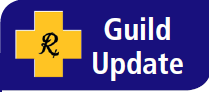 GUILD Members are reminded that applications for Guild Pharmacy of the Year 2018 close at the end of this week.
---
Tue 26 Sep 17
OUR uniquely Australian furry marsupial friends, koalas, are getting more than their share of internet coverage lately.
---
Tue 26 Sep 17
NEXT month, Australia will host the 68th session of the World Health Organization's (WHO) Regional Committee for the Western Pacific (RCM68).
---
Tue 26 Sep 17
AT ITS September 2017 meeting, the Victorian Pharmacy Authority (VPA) considered proposed amendments to its guidelines after having received input from stakeholders.
---
Tue 26 Sep 17
THE American Society of Health-System Pharmacists (ASHP) conducted a survey of pharmacy practice in hospital settings to generate some useful statistics.
---
Tue 26 Sep 17
THE Federal Government has announced the launch of the next phase of its National Drugs Campaign to help tackle the use of illicit drugs, particularly ice, among young Australians.
---
Tue 26 Sep 17
COMPLEMENTARY Medicines Australia (CMA) has declared its awards open for nomination and will be hosting the 18th Annual Industry Awards at Dockside in Sydney on 26 Oct 2017.
---
Tue 26 Sep 17
JANSSEN-CILAG'S Remicade (infliximab) now has a second biosimilar competitor after Inflectra (from Pfizer's Hospira), in the form of Renflexis from MSD.
---
Tue 26 Sep 17
PROFESSOR Parker Magin from University of Newcastle School of Medicine and Public Health is one of the successful HCF Research Foundation and RACGP grant recipients.
---
Tue 26 Sep 17
LONG acting reversible contraceptive methods, or "LARCs", are less user-dependent in reducing unintended pregnancies and should become more accessible, according to Alison Verhoeven, chief executive of the Australian Healthcare and Hospitals Association (AHHA).