---
Wed 20 Sep 17

TALK about flush with cash - Geneva prosecutors are investigating after toilets in the financial district were found blocked by about $100,000 in high-denomination Euro banknotes, they said on Monday.
---
Wed 20 Sep 17
AUSTRALIAN-LISTED medical life science company Medlab Clinical Limited has been granted a 20-year patent covering the Australian market for its probiotic product, NRGBiotic.
---
Wed 20 Sep 17
THE Therapeutic Goods Administration (TGA) has announced it has successfully pursued the conviction of a man and a woman in connection with two criminal charges surrounding the manufacture and supply of unapproved therapeutic goods.
---
Wed 20 Sep 17
THE Butterfly Foundation, which supports people with eating disorders, is to get an injection of funds from the Federal Government enabling it to launch it's new 'National Agenda for Eating Disorders'.
---
Wed 20 Sep 17
THE 25th of September is World Pharmacist Day, a time to celebrate the contributions pharmacists make to health services, and the Tasmanian branch of the Pharmacy Guild of Australia is giving away a morning tea to one lucky Tasmanian pharmacy.
---
Wed 20 Sep 17
HEART attack sufferers over the age of 65 years who have been prescribed beta-blockers along with their standard-of-care statin and ACE inhibitor, actually derive no additional survival benefit from the beta-blocker, according to a new Monash University study published in the Journal of the American College of Cardiology.
---
Wed 20 Sep 17
NEW Zealand pharmacists will now be able to supply funded nicotine replacement therapy and emergency oral contraceptives to eligible patients without a prescription under new regulations to take effect later this year.
---
Wed 20 Sep 17

ASX-LISTED digital medication management company, MedAdvisor, has announced a partnership with the Epilepsy Foundation in order to improve health outcomes for those living with the condition.
---
Wed 20 Sep 17
SERIOUS misuse of OTC painkillers containing codeine is costing one South Australian hospital around $1 million per year, according to a University of South Australia five-year review of hospital admissions relating to their impact.
---
Tue 19 Sep 17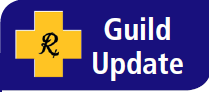 THE Pharmacy Guild has developed a Vaccination Service Business Support Guide and Workbook to provide pharmacy owners with information on how to implement a vaccination service within their pharmacy to ensure they are providing a quality and consistent service.