WIN A PURE THERAPY GIFT PACK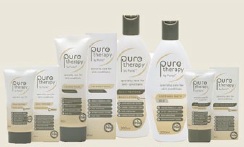 Every day this week Pharmacy Daily is giving readers the chance to win a Pure Therapy Gift Pack, valued at $75, courtesy of The Purist Company.
Skin in distress will find a head to toe solution in the Pure Therapy range, especially formulated for severely dry and sensitive skin prone to Eczema, Psoriasis and Dermatitis. Free from harsh chemicals such as Parabens, Sulphates, Mineral Oils and DEA, the range uses carefully selected ingredients which benefit skin.
Created after years of research, the products are dermatologist tested to be non-sensitising, non-irritating and provide 24 hour moisture to the skin.
For your chance to win, be first to send in the correct answer to the question below:
Monday 15 October 2012
What skin type would suit the Pure Therapy range?
Tuesday 16 October 2012 
What is the difference between the Body Moist and the Intensive Moisture Repair Gel?
Wednesday 17 October 2012 
List 3 benefits of the Pure Therapy range?
Thursday 18 October 2012 
What is the price range of Pure Therapy products?
Friday 19 October 2012 
What is in the ProNourish Complex® that's used in the Pure Therapy range?
Email your answer to comp@pharmacydaily.com.au
Hint! Visit www.purist.com
Note: This competition ran in October 2012 and entries have closed.