---
Tue 20 Feb 18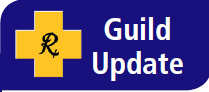 GUILD Members may be interested to know that the Guild website now offers a useful set of revamped workplace relations resources.
---
Tue 20 Feb 18
SUFFERERS of conditions like irritable bowel syndrome beware - it might get you involved in a brouhaha at 40,000 feet.
---
Tue 20 Feb 18
HIGHER accuracy of complex medication reconciliation can be achieved through improved design of electronic tools according to new work out of the USA published in the Journal of the American Medical Informatics Association.
---
Tue 20 Feb 18
APOTEX, in consultation with the TGA, is recalling one batch of APO-Metformin XR 1000 mg tablets (batch number E16539) due to potential contamination.
---
Tue 20 Feb 18
FOLLOWING the NZ Medsafe "potential risk" alert around joint-support product Arthrem, from Promisia and marketed by Pharmabroker, Promisia explains it is safe when taken "strictly as directed" - see the full story on two pages after the news in today's issue of Pharmacy Daily.
---
Tue 20 Feb 18
FOLLOWING several months of comprehensive due diligence and negotiation, Mundipharma has announced the acquisition of specialist pharmaceutical company, Tolmar Australia, supplementing its own oncology protfolio by including exclusive distribution rights for the oncology medication Eligard and Bi-Eligard (leuprorelin acetate) in Australia and New Zealand.
---
Tue 20 Feb 18
THE future of precision medicine in Australia is developed in a report by that name from the Australian Council of Learned Academies (ACOLA), supported by the Department of Health and launched at the end of Jan.
---
Tue 20 Feb 18
NEW legislation to protect community pharmacists in the UK from prosecution over dispensing errors has been signed into law by the Privy Council, and could come into force as soon as Apr this year, reports the Pharmaceutical Journal.
---
Tue 20 Feb 18
BOTH science and civil society organisations have continued to raise a storm over the passage through parliament the 2017 Measures No.1 Bill, according to an MJA Insight article.
---
Tue 20 Feb 18
THE Pharmaceutical Society of Australia (PSA) has announced it has resumed training for community pharmacy qualifications across Australia for pharmacy staff, including dispensary and pharmacy assistants.